Introductory Weekend Workshop to the Intimacy on Set Guidelines with Ita O'Brien
Safe to Create, Irish Theatre Institute and Theatre and Dance Northern Ireland are delighted to host an INTIMACY ON SET workshop with Ita O'Brien, Intimacy Coordinator.
This is a two-day workshop for trained & working professional actors, directors, and movement directors, producers/self-producing and casting directors/agents interested in exploring clear guidelines when working with intimacy and scenes with sexual content for live performance.
The weekend will provide a solid introduction to working with moments of intimacy, giving participants practical experience of how to implement the Intimacy On Set Guidelines and how to integrate their learning into their own practice.
Implementation of the Intimacy on Set Guidelines, exploring the ethics of working with intimacy, from the auditioning process, rehearsals, through to live performance.
Creating a safe environment through the use of a 'closed rehearsal room/set'.
The importance of table work, exploring the text to enable the actor to serve character within the intimate content.
Sculpting moments of intimacy from a preallocated play, putting into practice the Intimacy on Set Guidelines.
Participants will gain key insights into how to approach intimacy, simulated sex scenes and nudity for theatre.
There will be no nakedness or nudity in this workshop.
Participants will be asked to conduct some research in preparation for the workshop.
OUTLINE:
Saturday
10am – 1pm – Sharing of the Intimacy On Set Guidelines
1pm – 2pm – LUNCH
2pm – 5pm – Text work on play, warm ups, getting into character and character intention
Sunday
10am – 1pm – Creation of Intimate Scenes
1pm – 2pm – LUNCH
2pm – 5pm – Sharing of Intimate Scenes & Reflections on Learning
Running over Saturday 11th and Sunday 12th March 2023 the workshop costs 30 euros.  Lunch will be provided on both days.
Safe to Create will cover access costs.
Please request and complete our access rider by contacting and returning the form to info@safetocreate.ie and we will make sure to accommodate you fully.
Safe to Create is offering travel and accommodation bursaries of up to 350 euros for participants based outside of Dublin.  Participation bursaries are also available for those cannot afford to pay for the workshop.
PROVIDER: Ita O'Brien (Hosted by Safe to Create, Irish Theatre Institute and Theatre and Dance Northern Ireland)
DATES:  11th and 12th of March 2023
TIME: 10.00AM TO 5.00PM
COST: €30 (Access costs will be covered, and bursaries will be offered to participants based outside Dublin)
FORMAT:  In-person, tutor led
LOCATION:  Dublin City Centre – Venue to be confirmed
ACCREDITATION:  n/a
FURTHER INFO: There are 24 places on the workshop.  To secure a place please email info@safetocreate.ie with: 
An up-to-date CV
If you wish to avail of a bursary
A paragraph stating:  
Your experience of intimate scenes to date and in what capacity. 
What you are hoping to achieve by attending this workshop. 
Places will be offered based on eligibility ​and on a first come first served basis.
Once accepted into the workshop, you will be sent some details with what to prepare ahead of time.
NB. This is not intimacy practitioner training and should not be used or claimed as such.
Before attending the weekend, you will be asked to sign a participant agreement which stipulates the level and kind of workshop attended.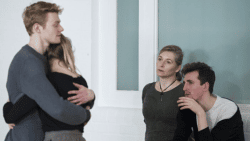 About Ita O'Brien 
Ita O'Brien is the UK's leading Intimacy Coordinator and founder of Intimacy on Set, her company set up in 2018, which provides services to TV, film, & theatre when dealing with intimacy, sexual content, and nudity. Most recently Ita has worked on Normal People (BBC3/Hulu), Sex Education 1&2 (Netflix) and I May Destroy You (BBC/HBO). Ita featured as a key speaker at ITI's Speak Up & Call It Out event(March 2018) and facilitated an Intimacy On Stage workshop in Dublin, hosted by ITI (January 2019).
About Intimacy on Set
Intimacy on Set was established in 2018 by Ita O'Brien in response to the growing demand for Intimacy Directors/Coordinators for Theatre, Film and Television and teaching in Drama Schools. At the heart of the organisation are the Intimacy on Set Guidelines which have been adopted widely in the industry. Intimacy on Set provides experienced Intimacy Directors/Coordinators to international productions, are training the next generation of Intimacy Directors (theatre) and Coordinators (film & TV) for the global Industry, as well as working with the leading Drama Schools, and sharing the Guidelines with staff and students alike to embed best practice into each organisations' ethos.
About Safe to Create
SAFE TO CREATE is a Dignity at Work programme looking to impact change on the culture and practices of the Arts and Creative sectors. It is managed by Irish Theatre Institute, in partnership with the Arts Council, Screen Ireland and Minding Creative Minds, on behalf of the Department of Tourism, Culture, Arts, Gaeltacht, Sport and Media.
About Irish Theatre Institute 
ITI is an all-island resource organisation for theatre. Our strategic intent is to maximise creative opportunities and resources for theatre-makers by building content, capacity, and interest at home and abroad.  Guardians of traditions as well as catalyst for change, ITI works in partnership and collaboratively to shape our future.  ITI is committed to keeping theatre alive and thriving, as relevant and exciting today as it ever has been.
About Theatre and Dance Northern Ireland 
Theatre and Dance NI works to connect, support the development and advocate and lobby on behalf of the theatre and dance sector, to highlight its vital role in society, and to place artistic practice at the centre of community life.