To access our MAP Counselling Service, log in to your membership below:
The following content is accessible for members only, please
sign in
.
If you are not a member but would like to access the MAP Counselling Service, click the button below to register.
MAP Counselling Service for Theatre and Dance NI Members 
Our Membership Assistance Programme (MAP) is designed to support member's health and wellbeing (To read more about MAP, Click Here).  
MAP includes 24/7 professional counselling support, delivered by Spectrum Life, for paid TDNI Members, their families and paid staff of member organisations under certain bands, highlighted in the table below: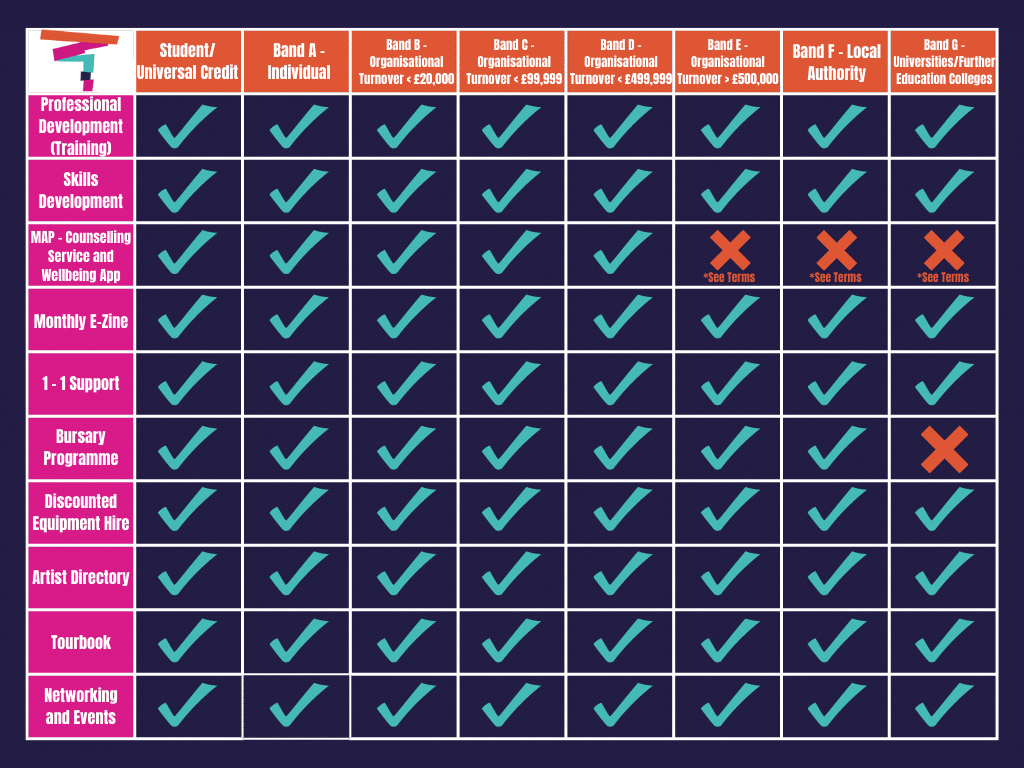 *Individuals can only avail if individual membership has been paid. 
Spectrum Life are specialists in supporting mental health and wellbeing in the workplace. The contracted service with Spectrum life is exclusive to TDNI members of certain bands (see above) and includes: 
A Wellness App, providing content to support your mental health and wellbeing, that can be accessed via computer or smartphone. 

 

Click Here

to download the Wellness App for IOS.

 

Click Here

to download the Wellness App

for Android.

 

Access to a professional counselling service, available 24 hours a day, 365 days a year. Through the phone and online chat function, you can speak directly to a licensed and accredited counsellor. (This is through the Wellness App and MAP portal – see instructions at top of page).

 Support can include financial, stress, anxiety, depression, relationship and martial problems, bereavement, grief, issues in the workplace and life coaching.

Access to six face-to-face sessions with licensed counsellors, with counsellors being available within 30 miles of your house, home or workplace on the island of Ireland.
Video – How to Access MAP Services
If you are not a member but would like to access the MAP Counselling Service, click the button below to register: