Applications for £1,000 emergency grants are now open and close at 12noon on Tuesday 30th March.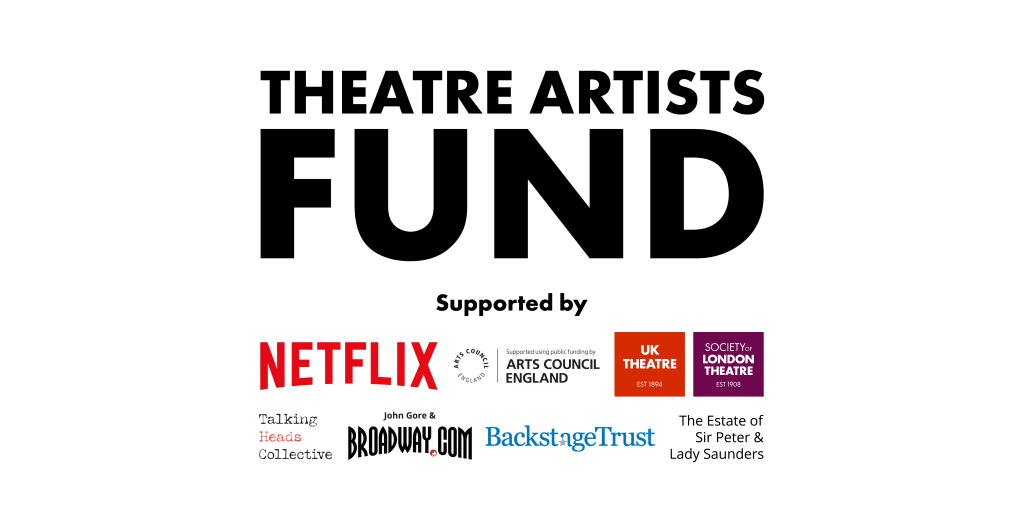 The Theatre Artists Fund has been set up to provide emergency support for theatre workers and freelancers across the UK. It is for theatre professionals who are in need of urgent and critical financial support due to the devastating impact of Covid-19 on the theatre sector.
Our ambition for the fund is to provide short-term relief to hundreds of theatre workers and freelancers across the UK, and particularly those from underrepresented groups disproportionately affected by the crisis.
The following information was updated on 16.03.21.
Key information
Applications are now open and will close at 12noon on Tuesday 30 March. You can view our current eligibility criteria below. If you wish to view a copy of the application form before you apply online please download a sample form.
Please ensure that you have read all the information on this page.
If eligible, applicants can be considered for a emergency grant of £1,000, which they can use towards living costs.
Applicants will need to meet certain eligibility criteria, provide one form of proof and provide contact details of a theatre professional to act as a referee to verify their information. Grants will be awarded based on hardship.
All applicants will be required to provide a CV demonstrating their professional theatre roles/jobs between January 2019 and March 2020 (a 15 month period).
Only certain theatrical freelancer professions are eligible – a full list is below.
Previous recipients of the Theatre Artists Fund
All previous recipients of a grant/s (regardless of the amount), are eligible to apply in this new round. Please note that being a previous recipient does not guarantee that you will be successful as all applications will be assessed on the basis of hardship and the information you supply.
Applicants with access requirements, and D/deaf and/or disabled applicants

If you have access requirements and the application form is difficult for you to understand or complete, then get in touch by emailing us at theatreartistsfund@soltukt.co.uk so we can discuss a different format, or some appropriate support to enable you to apply. Please include a phone number if you would like a call back.
Deafinitely Theatre are supporting deaf access needs for any deaf applicants wanting to apply. If you would like BSL translation, advice or help to apply please contact Deafinitely Theatre directly by sending an email or BSL video to info@deafinitelytheatre.co.uk. Please see below a BSL video by Deafinitely Theatre regarding the application process.
*Please note that for D/deaf and/or disabled applicants, we will require you to have worked a minimum of 5 weeks as a self-employed theatre professional to be considered for a grant.
The following freelancer roles are eligible: 
Actor / Musical Theatre Actor / Actor Musician
Assisted Performances Service Provider (i.e. audio description, BSL, captions)
Casting Director
Choreographer / Movement Director
Circus Artist
Comedian
Composer
Dancer
Director / Assistant Director / Resident Director
Education, Outreach and/or Participation – (with a professional company, production theatre or tour)
Fight Director
Magician
Marketing
Musical Director
Opera Performer
Press, PR and/or Communications
Producer
Production Manager
Props Maker
Puppet Designer / Maker
Theatre Technician, including Operator / Programmer
Scenic Artist
Set and/or Costume Designer
Stage Carpenter
Stage and/or Company Management
Sound, Video or Lighting Designer
Voice or Accent Director
Wardrobe and/or Costume Supervisor / Assistant / Maker
Wigs, Hair and/or Make-Up
Writer
Other (we will assess whether your profession is eligible)
For more information or to apply visit Theatre Artists Fund.