THINKING IN FRAME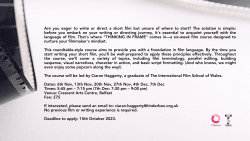 Are you eager to write or direct a short film but unsure of where to start? The solution is simple: before you embark on your writing or directing journey, it's essential to acquaint yourself with the language of film. That's where "THINKING IN FRAME" comes in a six-week film course designed to nurture your filmmaker's mindset.
This roundtable-style course aims to provide you with a foundation in film language. By the time you start writing your short film, you'll be well-prepared to apply these principles effectively. Throughout the course, we'll cover a variety of topics, including film terminology, parallel editing, building suspense, visual narratives, character in action, and basic script formatting. (And who knows, we might even enjoy some popcorn along the way!)
Course Details:
Dates: 6th Nov, 13th Nov, 20th Nov, 27th Nov, 4th Dec, 7th Dec
Times: 5:45 pm – 7:15 pm (7th Dec: 7:30 pm – 9:00 pm)
Venue: Crescent Arts Centre, Belfast
Fee: £75
About the Instructor: The course will be led by Ciaran Haggerty, a graduate of The International Film School of Wales.
Registration and Availability: To secure your spot in the course, please send an email as soon as possible, as availability is limited. No previous film or writing experience is required.
How to Apply: If interested, please send an email to: ciaran.haggerty@tinderbox.org.uk
Deadline to apply: 15th October 2023.