Theatre and Dance NI, in partnership with Belfast International Arts Festival and with support from Arts Council of Northern Ireland and British Council Northern Ireland, are delighted to announce the recipients of the Edinburgh Fringe Fellowship bursaries.
These bursaries are to provide financial support for 7 early to established artists, directors and producers who are intending to take work to the Edinburgh Festival Fringe in the future and promote themselves and/or their work to international arts industry presenters and promoters.
Pictured recipients are (clockwise) Liam McMullan, Chris Grant, Orla Graham, Tony Devlin, Matthew Sharpe, Flora Herberich, Alice McCullough.
Liam McMullan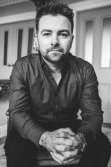 Liam McMullan graduated from The Liverpool Institute for Performing Arts with a BA Hons in Music, Theatre and Entertainment Management specialising in theatre producing and music management. Today he works as a freelance theatre producer and production coordinator, delivering successful commercial productions across Ireland whilst overseeing production coordination for some of Irelands largest festivals. He has been fortunate enough to work with companies such as Martin Lynch & GBL Productions, Riverdance, Les Ballets Trockadero De Monte Carlo, The Music Consortium, MCD Promotions and Festival Republic.
Chris Grant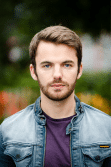 Christopher Grant is an Irish Times Theatre Nominated Actor, 1st winner of "Young Creative of the Year, NI" and graduate of Queen's University, Belfast. Recent credits include Wild Ones (Replay Theatre Company), Silent Trade (Kabosh Theatre Company), Play It By Ear (Big Telly Theatre Company) and A Streetcar Named Desire (The Lyric Theatre, Belfast). Pantomimes include Aladdin and Cinderella, Millennium Forum, Derry. Rapunzel: a tangled tale and Jack and the Beanstalk, Cre:8. Cinderella, GBL. He was also instrumental in some of the world's first zoom theatre with Big Telly Theatre Company. Christopher has appeared on screen in the BAFTA Nominated the Party, BFI's Sparrow, Superman prequel Krypton and BBC's My Mother and Other Strangers. Christopher also lends his voice to a variety of adverts on TV and Radio (The Bean Room, Last Resort and Bitter Pill, BBCRadio4).
Orla Graham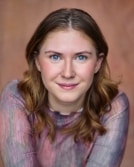 Orla Graham is a writer and actor based in Belfast. She trained at the Lir Academy, Dublin and with Tinderbox Theatre Company through Play Machine last year. Orla's recent credits include Re-Mix (Primecut Productions), Fallen Women (Lyric Theatre, Belfast), Two Fingers Up (Irish Cultural Centre, Hammersmith/Cairns Lecture Theatre, Summerhall, Edinburgh Fringe Festival); Blue Lights (BBC One/ Two Cities Television/ Gallagher Productions); Heave (DUETS Programme in association with Fishamble, Irish Theatre Institute and Dublin Fringe Festival). 'OCCUPIED.' was Orla's writing debut, a co-written production with Kirby Thompson. Their second play 'Float' will be shown at the Dublin Fringe Festival this September.
Tony Devlin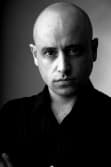 Tony Devlin graduated from Mountview Academy with an Honours degree in Acting. Credits include; working alongside Bruce Willis and Colin Farrell in Hart's War, Stephen Spielberg and Tom Hanks in Band of Brothers, as well as Kneecap, Breakfast on Pluto and H3. In 2007, Tony established Brassneck Theatre Company in Belfast and as Artistic Director, has directed over 20 productions and written 6 full-length plays. In 2015, he won the Aisling Award for his contribution to the arts and in 2023 was awarded a place on the Puttnam Scholarship Programme. After writing and directing short films including A bELFast Christmas and Beat the Bookies, Tony co-wrote and directed The Glenarma Tapes, which was introduced to the market at Cannes and is due for release Autumn 2023. Tony is in development for his subsequent two feature films; H-Block with Jim Sheridan and Dúlamán due to go into production Spring 2024.
Matthew Sharpe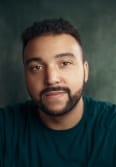 Matthew Sharpe is an actor and writer, who has worked in theatres across Northern Ireland, National Theatre London and Europe as well as appearing in films and TV in Ireland. Acquiring roles in Soft Bored Patrol, Ordinary Love, Stranger with a camera, Kneecap, and Bloodlands Series 1 and 2.  This year Matthew is a part of Incubate (a network for Theatre Makers) with Tinderbox Theatre Company. Matthew has his own podcast called The Thought Floor and is a keen writer. In Matthew's writing he is interested in where virtual meets reality and how we can use what seems like a forever changing technology to aid our work.
Flora Herberich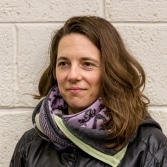 Flora Herberich is Head of Programmes, Pathways and Participation at Circusful. Her artistic career spans over 20 years specialising in circus and outdoor performance. She was awarded Arts Council England's funded fellowship in Circus Producing, hosted by the Roundhouse, Jacksons Lane & Crying Out Loud. Flora was Associate Producer for the Exhibition Road Show (Cultural Olympiad), toured in Europe with Tilted Productions, toured several small to mid-scale circus shows in the UK and mentors artists. Flora initiated a successful contemporary UK circus showcase, Canvas, collaborated with the Finnish Institute, Catalan Cultural Institute and works as Associate Producer of Jacksons Lane. Flora produced a tented circus festival in Battersea (part of Circus 250) and recently produced Sadiq Ali's The Chosen Haram, an award-winning circus theatre piece. Flora also worked with Scarabeus for Emerging, a unique cross-artform circus piece, which saw a mother and trans son talk about the journey of transition.
Alice McCullough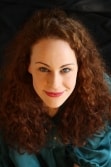 Once described by poet Tony Walsh as "a Fred Astaire of words," Alice McCullough's unconventional poetry performances have captivated audiences ever since she made her start performing Alice Fresco on the streets of Belfast. Fans of her work include Stephen Fry who described her as "a sensational new voice" and Naomi Shihab Nye, who described her as "a true original". Her critically acclaimed one-woman show Earth to Alice is a candid collection of songs and poems that takes her audience on a walk through Belfast, to Wonderland and back as she shares insights into her lived experience of bipolar disorder. A TV adaptation of Earth to Alice was commissioned by BBC in 2021 as part of their Culture in Quarantine series and Alice has been shortlisted for the Saboteur Best Spoken Word Show, The Neurodiversity Representation Award and the Birds of Paradise Exceptional Theatre Award at Edinburgh Fringe Festival 2022.
The Edinburgh Festival Fringe is a great celebration of arts and culture and a significant marketplace and gateway to international opportunities and taking your career to the next level. It's also a place full of creative energy from around the globe in which artists and performers take to hundreds of stages all over the city to present shows for every taste.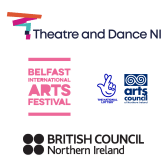 Delivered by Spotlight on Theatre and Dance from Northern Ireland Working Group
Theatre and Dance NI
www.theatreanddanceni.org
Niamh Flanagan – Executive Director
Belfast International Arts Festival
www.belfastinternationalartsfestival.com
Richard Wakely – Artistic Director and Chief Executive
Arts Council of Northern Ireland
www.artscouncil-ni.org
Alison McCrudden – Head of Literature/Drama (Job Share)
Caoileann Curry-Thompson - Arts Development Officer: Drama & Dance
Siobhan Molloy – Arts Development Officer: Festivals/Venues/International
British Council Northern Ireland
https://nireland.britishcouncil.org
Colette Norwood – Arts Manager Northern Ireland