Theatre and Dance NI are delighted to announce the recipients of our first ever INVEST programme – enabling professional creatives in Northern Ireland to develop and grow their creative practice.
The seven recipients cut across various disciplines of the theatre and dance sector in Northern Ireland including theatre director and drama facilitator Patsy Montgomery-Hughes, theatre producer Liam McMullan, actor and Gaeilgeoir, Francis Mezza, writer and director Seón Simpson, dance artist Maeve McGreevy, multi-disciplinary artist Ashton and theatre director Rhiann Jeffrey.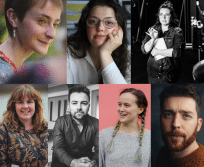 Speaking about the programme, Theatre and Dance NI director Niamh Flanagan said:
"This unique programme has been in development for a long time and has come about following extensive research and consultation with artists, funders, and other stakeholders.

"We are so grateful to Belfast City Council, ACNI and Foyle Foundation for their support which enables us to invest to this extent in our talented artists and creatives. Thank you to all of the artists who applied and congratulations to our very first INVEST participants."
Lord Mayor of Belfast, Councillor Christina Black said:
"As a proud supporter of Theatre and Dance NI's first ever INVEST Programme, we're delighted to see this important investment in local creative professionals come to fruition.

"If we want Belfast to be truly culturally vibrant – then we must find effective ways to develop, nurture and promote our creative talent. This pioneering programme 'INVEST' does just that – enabling creative individuals to develop professionally and personally through mentoring and skills training.

"This approach also aligns closely with Belfast's cultural strategy, 'A City Imagining', which aims to help our creative sector to explore new ways of working, take more risks and have more autonomy to engage with people and audiences in new and innovative ways."
Alison McCrudden, joint Head of Drama and Literature, Arts Council of Northern Ireland, commented:
"Northern Ireland has firmly put itself on the map as a global destination for arts and the creative industries. This important new resource will help to nurture and develop our hugely talented pool of theatre and dance professionals, providing the support needed to develop individual talents and, in turn, enhance skills, idea development and opportunities within the wider sector. Congratulations to the first seven recipients of the INVEST programme."
INVEST is a freelance artist development project based in Belfast with a national and international reach, designed to upskill and create the next generation of inclusive artists to lead Northern Ireland's theatre and dance sectors.
These awards allow creatives to develop professionally and personally through direct support, industry mentoring and unparalleled access to skills training and potential employment opportunities.
Bringing these individuals together will build a pool of artists who are ambitious, supporting them to network; make connections, develop partnerships and collaborations locally, regionally, and internationally.
*Updated participants: Theatremaker Matthew Sharpe has deferred his place until next year and look forward to working with him in 2024. We are delighted to welcome producer Liam McMullan to the 2023 selection.