INVEST
INVEST is a Theatre and Dance NI initiative supported by Belfast City Council and Arts Council of Northern Ireland. This is the second year of our professional development and mentoring programme designed for artists and freelancers including directors, choreographers, creators, technicians, producers, backstage staff, or anyone working professionally across theatre and dance in Northern Ireland.
Background
Theatre and Dance NI is the sole support and representative professional membership organisation for theatre and dance in Northern Ireland with key goals to connect, support development and advocate for our artists and the industry.
Since 2017, Theatre and Dance NI has gathered evidence linking the sustainability of NI's cultural sector to the introduction of direct support for freelance artists. This programme has been shaped throughout by extensive consultation and evaluation with artists, freelancers', sectoral stakeholders and former participants.
The Programme 
INVEST seeks to inspire and equip those who aim to become the next artistic creative leaders in our sector. The programme provides a financial investment directly to artists to access the time, space and resources required to think, reflect on and develop their creative practice. It provides an unparalleled opportunity to develop, collaborate, and be empowered at a critical time; fostering connections and networks to sustain careers, creating a culture in which artists feel safe, supported, and valued.
The programme includes: 
Bursary – £3000. The bursary should be used towards developing your practice. This could include but is not limited to: training course fees, individual tuition, additional mentoring, conferences, related travel and accommodation, networking, training, residencies, seeing other work and research and development.
Support – Support from the TDNI team including Steven Atkinson (Producer, Long Acre Arts).
Mentoring – One-to-one industry mentors based on your artform, what your aspirations are, what you want to achieve through the INVEST programme and the mentor's area of expertise. Previous mentors have included: Pádraig Cusack (inc. War Horse, Producer, The National), Dannielle Lecointe-Mosca (Choreographer, Director, Dramaturg & Creative Coach, ZooNation), Lawrence Cook (Dramaturg, BBC Radio Scotland) and Tanya Dean (Dramaturg).
Networking – Group sessions to encourage interdisciplinary collaboration and where artists can expect to gain access to national and international industry leaders.
Training – Skills development training sessions and workshops including a Programme Induction, Programmed Residential, Professionalising Your Practice, People & Conflict Management, Income Generation, Knowing Your Audience, IP & Copyright, Pitching Your Work and Theatre Tax Relief.
Eligibility
You must be a member of TDNI. To sign up, click here.
Living and working in Northern Ireland
+21 y/o
Working professionally in theatre and/or dance
Those aspiring to become artistic creative leaders
See FAQs for full list of ineligibility.
We welcome submissions from all eligible applicants, irrespective of religious belief, political opinion, race, age, gender, disability, marital status, sexual orientation or people with dependants or without.
INVEST does not directly fund the creation, production or touring of work. The bursary can be put towards the research and development of your creative processes that will ultimately develop your professional practice.
Schedule
The programme will run from November 2023 and conclude no later than July 2024.
As part of the programme, TDNI will schedule several professional development training sessions.
Most sessions will be held in person in Belfast.
Some sessions will be pre-designed (as listed in training bullet point above) and through collaboration with participants, we will create a full schedule of activity that is bespoke to the group and its individuals where possible.
While participants are advised to attend all sessions where possible, it is required you attend a minimum of six. Mentor sessions will be held either in-person or online.
As part of the programmed sessions, Theatre and Dance NI will include a residential in Spring 2024. The residential location is to be confirmed and will be scheduled around participant availability. We aim to give at least 2 months' notice of the final details. The programme induction session and residential are compulsory.
Application Process 
Please send your completed application form and monitoring form to invest@theatreanddanceni.org
If writing is not your preferred form of communication, you may submit video or audio file. Some questions will require a short-written answer, and this will be specified on the Application Form.
If you are applying via pre-recorded visual/audio, you should submit your link in each questions' answer box on the application form.
Deadline
INVEST is open for applications from Friday 29th September 2023.
Deadline for application submission is Wednesday 18th October 2023 at 5pm. Any late submissions will not be accepted.
APPLICATIONS ARE NOW CLOSED
Contact
If you have read over the FAQs document and still have a question, please contact invest@theatreanddanceni.org
These bursaries have been supported by the Arts Council of Northern Ireland and Belfast City Council.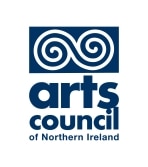 This programme is grant aided by Belfast City Council. The views expressed are not necessarily shared or endorsed by the Council. The council does not accept any responsibility or liability for same.